As a lifelong book lover, one of the nice things about working in a Library is that you sometimes find unexpected titles on the shelves. I've enjoyed reading many of Haruki Murakami's fictional works (several of which are available in our school library). Haruki Murakami is a Japanese writer. Murakami's books and stories have been bestsellers in Japan and internationally, with his work being translated into 50 languages and selling millions of copies outside his native country. It's probably fair to say that Murakami is one of Japan's most famous writers, mainly due to the runaway success of his novel Norwegian Wood which was published in 1987.
What came as a surprise to me was that we also had a copy of one of Haruki Murakami's non-fictional works in our Library: What I Talk About When I Talk About Running. Murakami began seriously running on a regular basis back in 1982 when he was 33 years old. He covers an average of six miles a day, six days a week and has now completed 27 marathons. He completed an ultramarathon of 62 miles in 1996 and is also a Triathlete. Murakami believes that to give up running would be like giving up writing, which would be like giving up living.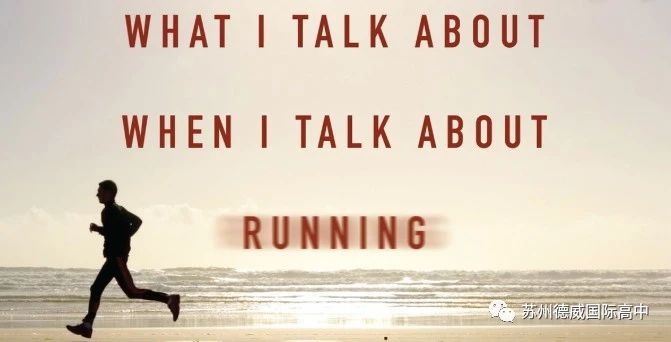 In the foreword of the book Murakami sets the tone immediately:
"There's a wise saying that goes like this: A real gentleman never discusses women he's broken up with or how much tax he's paid. Actually, this is a total lie. I just made it up. Sorry! But if there really were such a saying, I think that one more condition for being a gentleman would be keeping quiet about what you do to stay healthy. A gentleman shouldn't go on and on about what he does to stay fit. At least that's how I see it."
Fortunately, Murakami doesn't follow his own advice and throughout this book, he goes into great detail about the activities he does to stay fit.
"...Running every day is a kind of lifeline for me, so I'm not going to lay off or quit just because I'm busy. If I used being busy as an excuse not to run, I'd never run again. I have only a few reasons to keep on running, and a truckload of them to quit. All I can do is keep those few reasons nicely polished."
What I Talk About When I Talk About Running is partly a training diary, and includes reprints of many of the articles that Murakami wrote for various magazines (which includes a fascinating account of his solo assault on the original route from Athens to Marathon in the burning heat of summer).
"I pass the twenty-five-mile mark.
"Just one more mile. Hang in there!" the editor calls out cheerfully from the van. Easy for you to say, I want to yell back, but don't. The naked sun is blazing hot. It's only just past nine a.m., but I feel like I'm in an oven. The sweat's getting in my eyes. The salt makes my eyes sting, and for a while, I can't see a thing. I wipe away the sweat with my hand, but my hand and face are salty too, and that makes my eyes sting even more…
Throughout the book, we get to follow along with Murakami's successes and failures in equal measure. Often it is the experience of failure that provides the most valuable insights and lessons:
"There are three reasons I failed. Not enough training. Not enough training. And not enough training. That's it in a word."
Even though I'm not a runner myself, I enjoyed this book immensely. Page by page it is both sobering and funny, philosophical and playful and will appeal both to fans of the writer as well as anyone who finds satisfaction in distance running or has an interest in writing and what it takes to be a writer.