Dulwich International High School Suzhou (DHSZ) provides a truly exceptional environment for study and growth. The combination of amazing students, inspiring faculty and excellent resources means our students enjoy the good support and the care they need to be able to exceed expectations and fulfil their potential. Our outstanding A-Level examination results, especially in Mathematics, Biology, Chemistry, Physics, Economics, Music and Art and our impressive record of acceptances to prestigious US, UK, Canadian and worldwide universities have quickly established our reputation for excellence of achievement. Furthermore, our alumni are excelling and thriving in their chosen colleges and universities and tell us that, in comparison with their peers from other high schools, they have 'The Dulwich Advantage'. They are the best testimony to the effectiveness of our school in preparing young people to adapt successfully to studying and living overseas. The last two years of high school are a very important part of a young person's education because they set the future direction for their studies at college or university and for their working lives afterwards. This booklet will enable you to understand better and make a more informed choice about the range of AS and A2 courses we are offering for the next two years, together with the additional programmes we offer that add value to your studies.
Being a large, well-established high school we are able to offer a wide selection of courses that allow students to follow individualised programmes of study, allowing them to focus on their interests and align their study with their future plans for college and career. Equally, for students who are unsure of their future direction, the choices available allow for a broad, balanced programme of study.

We have a reputation with prestigious colleges and universities around the world for the excellence of the college and career counselling we offer students throughout their time with us. We are confident that the knowledge and experience of our college counselling team gives our students a great advantage in securing their best-fit university places.

It is our highest priority that our students are challenged and stimulated academically and that they achieve excellent grades through the expert teaching and the careful support and guidance of our professional and well-qualified teachers. Whilst strong exam results are essential, preparation for examinations is only one part of our comprehensive programme. We emphasise the development of good study habits, critical and creative thinking and a passion for learning. With continued and consistent hard work, the students at DHSZ build on their excellent IGCSE results to achieve outstanding results at A Level.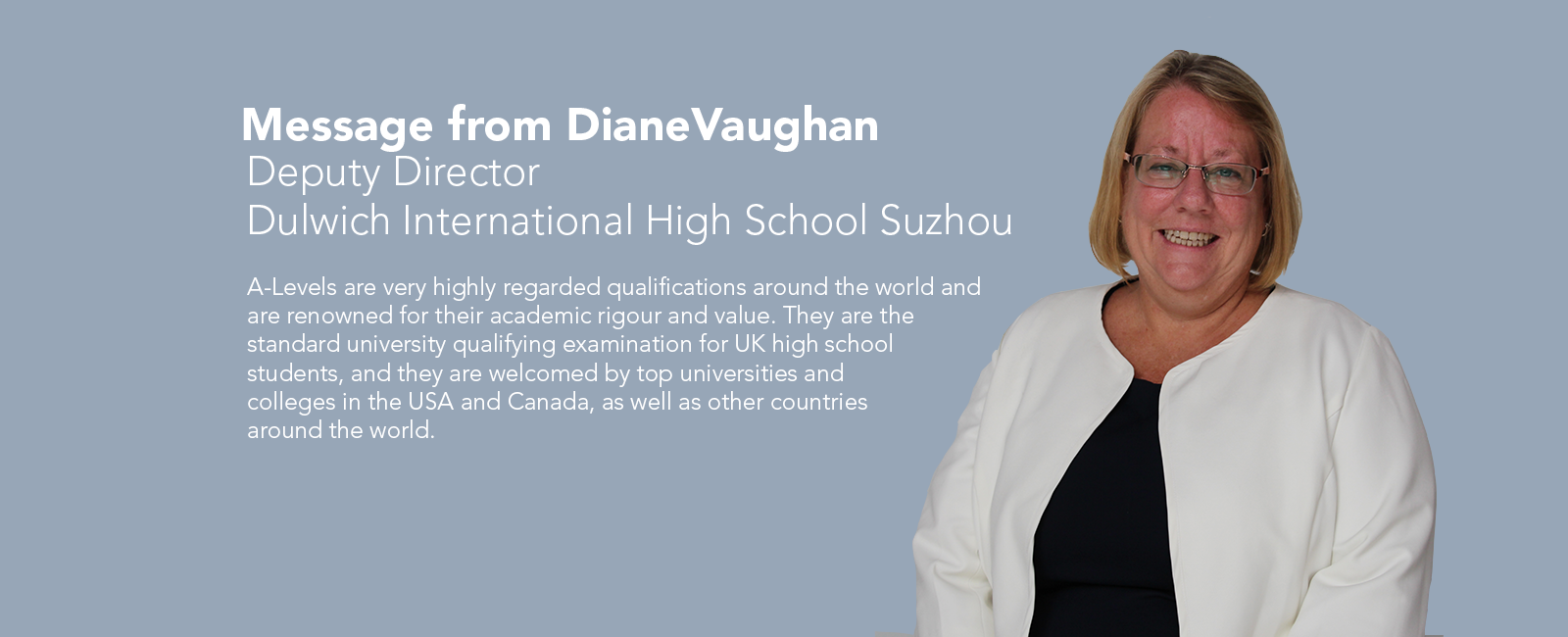 A-Levels are very highly regarded qualifications around the world and are renowned for their academic rigour and value. They are the standard university qualifying examination for UK high school students, and they are welcomed by top universities and colleges in the USA and Canada, as well as other countries around the world.
A-Levels are divided into two equal parts: the AS (Advanced Subsidiary) and the A2. Students usually take one year to complete each of these parts.

The AS is a prerequisite to study an A2 in a subject, but it also has a value in its own right and is equivalent to half an A-Level. To gain a full A-Level, in a particular subject, it is necessary to complete both the AS and the A2 sections of the course. The A2 courses include a synoptic element, which draws on the skills and knowledge gained in both the AS and A2 parts of the course.

Students usually take four AS courses and then continue in their senior year with three of these at the A2 Level. This means that it is usual for students to graduate with three full A Levels and one AS Level.

AS exams are graded A, B, C, D and E, with the grades being represented by lower case letters in the statement of examination results, whilst full A Levels are graded A*, A, B, C, D and E. A* grades are difficult to achieve and are highly valued for entry to the best UK universities. Cambridge University, for example, typically requires students to attain an A*, A*, A profile.

While there is the opportunity to retake AS exams, having to resit exams takes valuable time away from studying and preparing for A2 examinations and is to be avoided if possible. In addition, many colleges look unfavourably upon resits, and the results of resits are released too late to be included in most college applications.
Excellent AS grades are the key qualification for admission to US colleges and UK universities. Hard work, commitment, good study habits and excellent attendance are all essential for success.

Through our pastoral structure, we continue to guide students in further developing and maintaining effective study skills and a positive work ethic. We publish term dates well in advance and guide students on appropriate times for standardised testing to ensure that absences are minimised. Our best-performing students are not only committed and self-motivated, but they also trust our expert faculty to guide them and make full use of the support that the school provides.

This course is offered to students who achieve at least a B grade at IGCSE Art and Design. Students who have not taken IGCSE Art and Design will be considered, but should first meet with the Head of Art to discuss their previous work and future intentions in the subject. They will be required to complete work over the summer holiday in advance of the course.
AS Biology is for students with a keen interest in Biology. Students will need a B grade or higher in IGCSE Biology or a comparable course.
Students who have not studied Biology before will be carefully considered on their individual merits. If accepted onto the Biology course these students will be expected to complete extra work in order to gain knowledge of any content that is not known.
AS Chemistry is for students who have an interest in Chemistry, or who require the course for their further studies. The course is offered to students who have achieved a B grade or higher in IGCSE Chemistry or a comparable course.
Computer Science A-Level Option
Students should have achieved at least a C grade in IGCSE ESL together with an A grade in IGCSE Maths. The second year of the course requires a high level of English; therefore, students who have not obtained an A in IGCSE English need to work particularly hard to raise their English level during Year 12.

This course is offered to those students who have achieved at least a grade B in IGCSE English, and if they have studied the subject, at least grade 5 in IGCSE Economics. Prior study is an advantage but not a requirement. The course requires a high degree of English language competency from the outset. Students must also have a genuine interest in Economics.

Further Mathematics A-Level Option
AS and A Level Further Maths are very demanding courses, AS focusses on breadth whilst the full A Level moves deeply into difficult mathematical concepts.
To be successful in AS Level Further Mathematics, students need to have achieved an A* in 0580 IGCSE Mathematics. Students who wish to take A Level Further Mathematics must have also achieved an A* in 0606 Additional Maths or equivalent.

This course is offered only to a limited number of highly motivated students with a keen interest in Geography. Students should have achieved at least a B grade at IGCSE Geography and English, and have consistently demonstrated that they have the self-motivation, study skills and time-management skills to cope with a demanding course.

This course is offered to committed students who have learned their instrument, including voice, up to at least ABRSM Grade 5 level, or its equivalent. It is essential that students are familiar with Western notation.
It is highly recommended that students choosing this course have achieved at least a B grade at IGCSE Music or a course of similar rigour. Students who have not had the opportunity to study IGCSE Music will have their application to study AS Music carefully considered.

AS Physics is for students who have an interest in Physics or who require the course for their further studies. The course is offered for students who have achieved a B grade or higher in IGCSE Physics or a comparable course.
Psychology A-Level Option
AS Psychology is for students who have a keen interest in Psychology and wish to study social sciences at university. It is an academically demanding course suitable for hard-working, committed students who have achieved strong grades in their IGCSEs, including at least a B in English, Mathematics and science. Students who have not obtained an A in IGCSE English will need to work particularly hard to raise their English level in order to succeed in the Psychology course.