2018 VA Cup: VISIONARIES in the Oxbridge Elite Camp 2018 were selected from over 1800 applicants from 59 top international schools. 98 VISIONARIES received an interview invitation from the University of Cambridge and 92 VISIONARIES received invitations from the University of Oxford. The interview invitation rate reached 86% and 74 of the students ultimately went on to receive Oxbridge offers.
2019 VA Cup: VISIONARIES in the Oxbridge Elite Camp 2019 were selected from over 2000 applicants from 130 top international schools. Finally, 113 students received conditional offers from Oxbridge.
Vision Academy selects the top students from the international schools all over the world in order to build a team called VISIONARIES, with the sole objective of applying for the dream schools: The University of Cambridge and Oxford University. Over 300 VISIONARIES have received Oxbridge Offers so far from the Oxbridge Camp.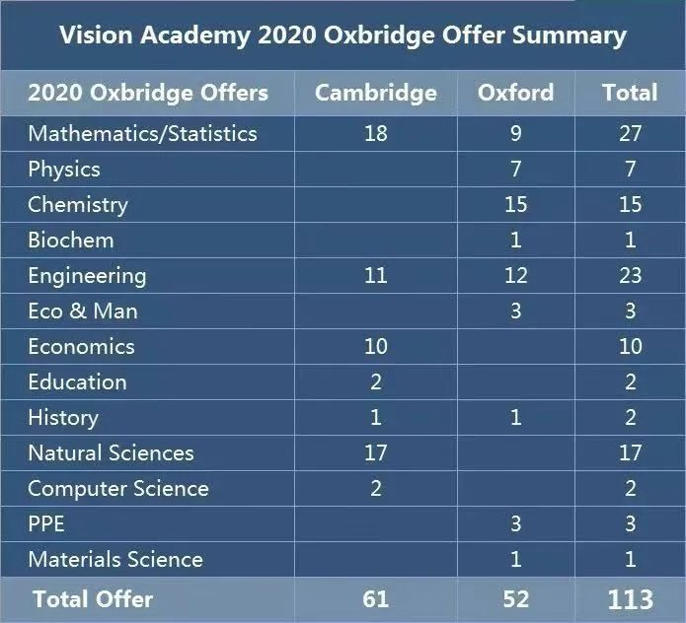 2020 Oxbridge Camp is now starting its selection process as it prepares for building the team of VISIONARIES 2020 right now. Are you ready?
Introduction to 2020 Oxbridge Elite Camp:
Course schedule:
July 12—July 26 2020
July 27—August 9 2020
Time period: 14 Days
Place: Shanghai
Student: Teacher ratio: ~1:12
Teacher portfolio: Graduates from Oxford or Cambridge University with minimal 3-year Oxbridge interview teaching experience in a specific major. For example an Economics teacher who graduated from Oxbridge with a degree of Economics
Course Arrangement:
Matching colleges and majors, assigning tutors that graduated from colleges that students will apply for, introducing different interviewers' styles & research directions

Developing and refining personal statements

Detailed explanations on the contents of interviews and written assessments

One-on-one mock interviews to simulate real Oxford and Cambridge interview scenes

Professional tutors from the Oxbridge Elite Camp will follow up on the final personal statements (completed before September 15)

Pre-interview Q&A, reviewing and consolidating the contents of the written assessment and providing feedback on the interview training courses.
Background promotion camp
The activities in the background camp are not only full of academic atmosphere but also very interesting. The mentors in the background camp are all from the world's top universities such as Oxford and Cambridge.
The background promotion camp is different from other summer camps and is more than just a tourism experience. The only way to improve students' understanding and application of subject knowledge is to genuinely improve students' academic level!
At present, most other summer camp projects are mainly based on sightseeing + experience. Although such a summer camp can broaden children's horizons, it can't really help children's academic improvement. Such camps are only suitable for primary school and junior high school students.
For those high school students who are interested in learning, especially those who are eager to enter famous schools or are exploring professional interests, the background camp can make their summer vacation meaningful and help them take a quick step on the fast track to a famous school!
Background promotion camp has 4 professional topics. In addition to academic research projects, mentors will help to determine the majors for students and lead them on the first step of application - major selection!
In addition, the background camp also arranges interesting cultural experience and etiquette courses, so that students can broaden their horizons and improve their soft skills while enhancing their academic ability!
Background promotion camp is ideal for students who want to deepen their subject knowledge and improve their academic level, in order to get a place at a famous university.
Course projects:
Economy: financial modelling, practical application, big data analysis

Science and Engineering: experimental science, inquiry learning, and construction of experimental reports

Mathematics & Computer: mathematical thinking, introduction to algorithm programming, the enlightenment of information Olympiad

Biochemistry: experimental science, inquiry learning, construction of an experimental report
*Specific project details will be published and updated later
Opening time: July 12-26, the first phase; July 27-august 9, the second phase
Competency program:
British culture experience and etiquette course

Senior tutor interprets professional choice

Summer camp Gala
Introduction to VA Cup
Language: English
Competition Time: November, January, March, June
Entry Mode: Individual Contestant
Test Mode: written online examination, all of the questions will be multiple-choice questions.
Candidate: the students of year 10 11 12 IG1 with strong academic skills
each contestant may choose only one major
Five Majors
Vision Cup Mathematics & Computer Science Challenge
Vision Cup Physics & Engineering Challenge
Vision Cup Chemistry Challenge
Vision Cup Biology Challenge
Vision Cup Economics Challenge
Entry fee: The VA Cup is for public benefit. No examination or application fee will be charged.
Note: students can carry calculators with no programming functions and paper English-Chinese dictionaries.
Vision Academy & Dulwich College Suzhou Scholarship:
Vision Academy works with Dulwich International High School Suzhou by providing full scholarships worth 70000 RMB to the winners in VA Cup competition Level1 and Level2. The two top students from Level1 and Level2 will be able to attend the Oxbridge Elite Camp for free.
Test time: online test at 7:00 p.m. on March 20, 2020
Parents and students, please check your school email to find out more about how to apply. At 8 pm on Saturday, March 14 there will be two important events. Firstly, there is a pre-exam online session, followed by a session explaining the scholarship granting standards for the Dulwich VA Cup. Parents are welcome to participate. More information will be sent to you via email.