Kristy to Study Fine Art in Goldsmiths
The Goldsmiths, University of London and Goldsmiths Institute were established in 1891 and later merged into the University of London in 1904, becoming Goldsmiths, University of London. The University specializes in media and cultural creativity and arts courses. Goldsmiths' Art Department is one of the best in the UK, and is famously a breeding ground for young British artists. Since 1990, graduates from Goldsmiths have received more than 30 Turner Prizes (the Turner Prize is the most prestigious art award in the UK) and nominated seven winners.
Discovering Herself In Art
In the junior School Kristy did not like mathematics and science, but was very good at English. At that time, she was frustrated and did not know what to study. Coming to Dulwich meant that she could play to her strengths and find her own interests. She discovered herself in IGCSE's Art, although she had not previously had any experience with painting. Mr. Short, the head of art, discovered that she had both a talent and passion for photography and installation arts.
Kristy likes to be different from others and does not mix well with the crowd. The individuality of the artistic profession is perfect for her. However, applying for an art major is very different from other majors. The interviews typically centers on the students portfolio of work, which results in probing questions about the artistic motivations for the works. Kristy's portfolio is the accumulation of homework assignments that she enjoyed completing. Mr. Short's teaching philosophy resonated with Kristy. He advocates that artistic expression should not be restricted to painting and that key to all valuable work is expression. Art is not all about painting. Artists can use different colors, materials and textures to express themselves through mediums such as photography and movies.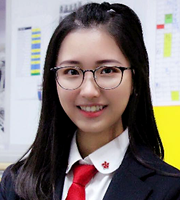 I was very frustrated when I was in junior high school. Coming to Dulwich has changed my life track. The teachers here encourage the students and respect their ideas. I have found confidence and like to communicate with my teachers.
- Kristy, W
Kristy enjoyed debating with Mr. Short and this process of constructive criticism helped her to develop her unique style of artistic expression. Mr. Short very much enjoy discussing ideas with students and is keen to direct them to express themselves in the most effective ways they can. Kristy prefers to produce work that has profound meaning. In a learning environment that encourages individuality and respects creativity, Kristy frequently falls in love with works of art. She says that she is usually a very lazy person who cannot stand for long without sitting, but she can stand up when she is working on her art, concentrating and achieving a state of flow.
One of her photographic works, Mirror Line, won the award at the school Art Photo Competition. she says:
"I took this photo by accident. All of my photography works are accidental discovery of beauty, and I do not like to take special shots or poses. This is lake Lijiang. It reflects a world like a mirror, but maybe it is not a reflection at all, but another world, such as a parallel world? Perhaps the underwater reflection we think of is actually another world we do not know about. Do the people in the other world know of the existence of our world? Do they look back out at our reflection in the water?"
She is very confident about her professional ability and only applied for two schools: London Art University and University of London, Goldsmiths. Both universities invited her to interview. After she had undergone the interviews, she was very sure that she would go to the Goldsmith Institute because the ideals of the college were very much in line with her personal philosophy.
She is good at combining the interests of other fields with her professional approach to art. Kristy is naturally sensitive and likes to analyze people's behavior, loves psychology, reads books in this area, and chooses psychology courses. Therefore, she will study the difference between the works of the mentally ill artists before and after illness.
When Kristy was a child, her parents often took her to visit some impoverished areas. They showed her that there are still many people in the world who are not so fortunate in order to help her learn contentment, and in the hope that she will eventually be able to help those in need. She has continued to participate in the volunteer activities of the Gesanghua Education Relief Association in Qinghai since the middle school, visited Qinghai twice, and registered families in need of assistance. This touched her and inspired her creativity. One of her works, Hidden, is designed to reflect some of the socially vulnerable groups. In her work, she magnifies the face of a small person and displays it with a large picture frame. She tries to enlarge the tiny things, to help people pay attention to them.
When Kristy first started at Dulwich, she went to the Cotswolds summer camp in the UK. She stayed in a host family, experienced local culture and customs, integrated into local life, and started a cross-cultural learning activity with the Cotswolds School. She liked the local cultural environment so much that she decided to go to study in the UK. In order to exercise her energy, she participated in the International Duke of Edinburgh Awards. This award drives young people to challenge themselves rather than competing with each other, irrespective of their cultural backgrounds, physical strength, skills or interests. By completing at different, young people will challenge their own limits and push themselves to new levels of achievement. During the process, she found that she could do many things. Afterwards,her personality was stronger and she liked to help others. This activity made her rediscover her own potential and exercised her perseverance.