On 26th February, actor Matt Costain from the Royal Shakespeare Company (RSC) visited Dulwich International High School Suzhou. He led two workshops for our staff and students of both the lower grades and upper grades. Performing Arts has always played an important role in the Dulwich College International (DCI)'s holistic approach to Education.
This year marks the third year of Dulwich College International's partnership with RSC Education. This collaboration affords our students and staff a wide variety of opportunities to access and engage with Shakespeare's works, developing a lifelong relationship with his plays and live theatre. We achieve this through pedagogical practice developed directly from the RSC's rehearsal rooms.
The RSC Education approach is based on the following:
RSC Education aims to make Shakespeare vivid, accessible and enjoyable for students of all ages as well as their teachers.
It enables young people to have the kind of joyful first encounters with Shakespeare's work that lifts their aspirations and belief in their own abilities.
It prioritizes the professional development of teachers so that more young people's experiences of Shakespeare's plays are rooted in the real-world work of actors and directors in the rehearsal room.
There is a significant and compelling body of evidence about the impact of RSC Education's teaching approaches on student self-confidence and attainment.
Matt Costain trained at Rose Bruford College of Speech and Drama in Theatre, and then later at The National Centre for Circus Arts in aerial skills. Matt has developed a particular strength in physical, visual and ensemble-based theatre. His other great passion is for performing Shakespeare.
Career highlights include "The Histories Cycle" for the Royal Shakespeare Company - for which Matt shares in the Olivier Award for Best Company Performance, "The Birds" and the multi-award-winning "Warhorse", both for the National Theatre, and two seasons at Shakespeare's Globe Theatre.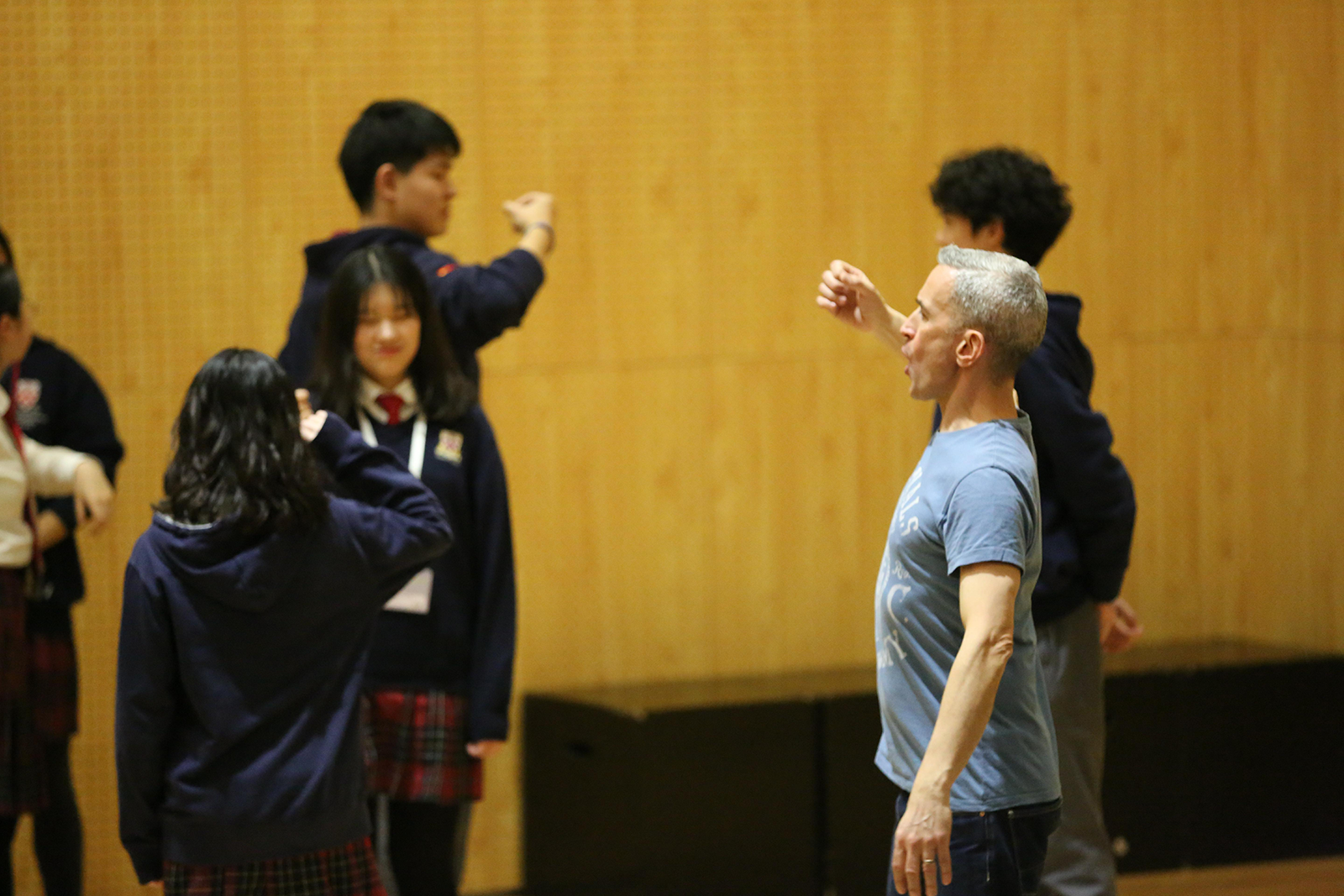 The students learned a lot of the basics of drama in these workshops, and they also gained a deeper understanding of Shakespeare's plays through lively and interesting games. Here are the reflections of two students who participated in the workshops:
Glenny participated in the Lower Grade workshop:
"Matt let us do a lot of games, exercise our responsiveness, he humorously introduced the basics of drama, and let the students form groups to work together. We also did some games and listened to instructions. Matt selected several volunteers to go on stage to read lines from "Romeo and Juliet" and practise the techniques, such as eye contact and voice expressions. Matt also walked into the 11th grade English class and explained Shakespeare's "Macbeth". He brought the students into the situation through performances. I think this form is more vivid and intuitive."
Jack participated in the Upper Grade workshop:
"Matt warmed us up with a small game, then let us read the script of "Romeo and Juliet", gave us some guidance in advance, and then let us perform in a group. I am a member of the school Shakespeare's Drama Club. We are rehearsing a Shakespeare play "Two Gentlemen of Verona". Matt told us the plot and relationship of the characters from the perspective of a theatre practitioner. His understanding is very profound. He taught us how to diversify the script and change the location of the story to a modern nightclub. Matt also came to the senior drama class to watch the student performance and offered guidance. The Drama teacher Ms. Park also arranged a Career Lunch, so that students who are interested in drama could have lunch with Matt. Matt explained that drama is different from what we imagine. We need to seize any possible opportunities, and it is important to highlight your own characteristics and stand out. I really liked Matt. He is very interesting, very open, and has a good sense of humor. This experience also gave me a clearer understanding of my future career development."