Our graduating class of 2019 comprises of 97 students. By the end of April 2019, they have received a total of 497 offers. The 497 offers include 247 offers from the USA, 176 offers from the UK, 60 from Canada, 5 from Australia, 3 from the Netherlands, 3 from Japan, 1 from China, 1 from Malaysia, and 1 from Switzerland. This year's graduates have been accepted to a wide range of majors: mathematics, architecture, cinema and media studies, international affairs, product design, biology, international business, etc. Our graduation class has received an accumulated scholarship total of 1,379,125 USD.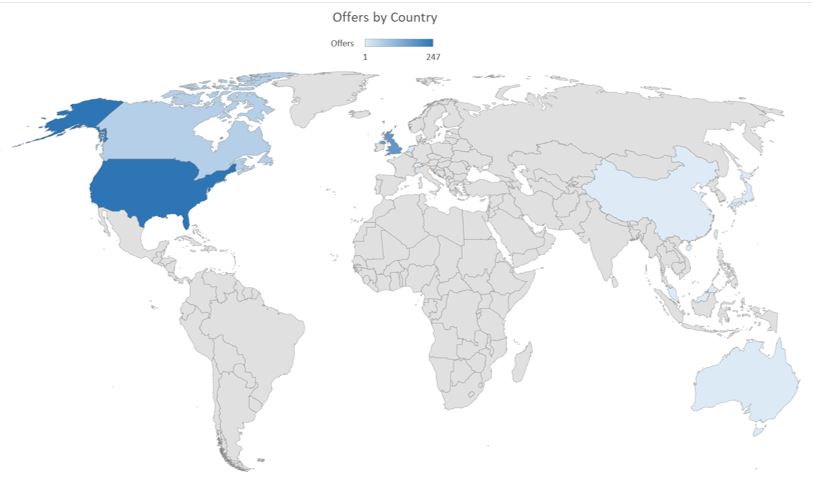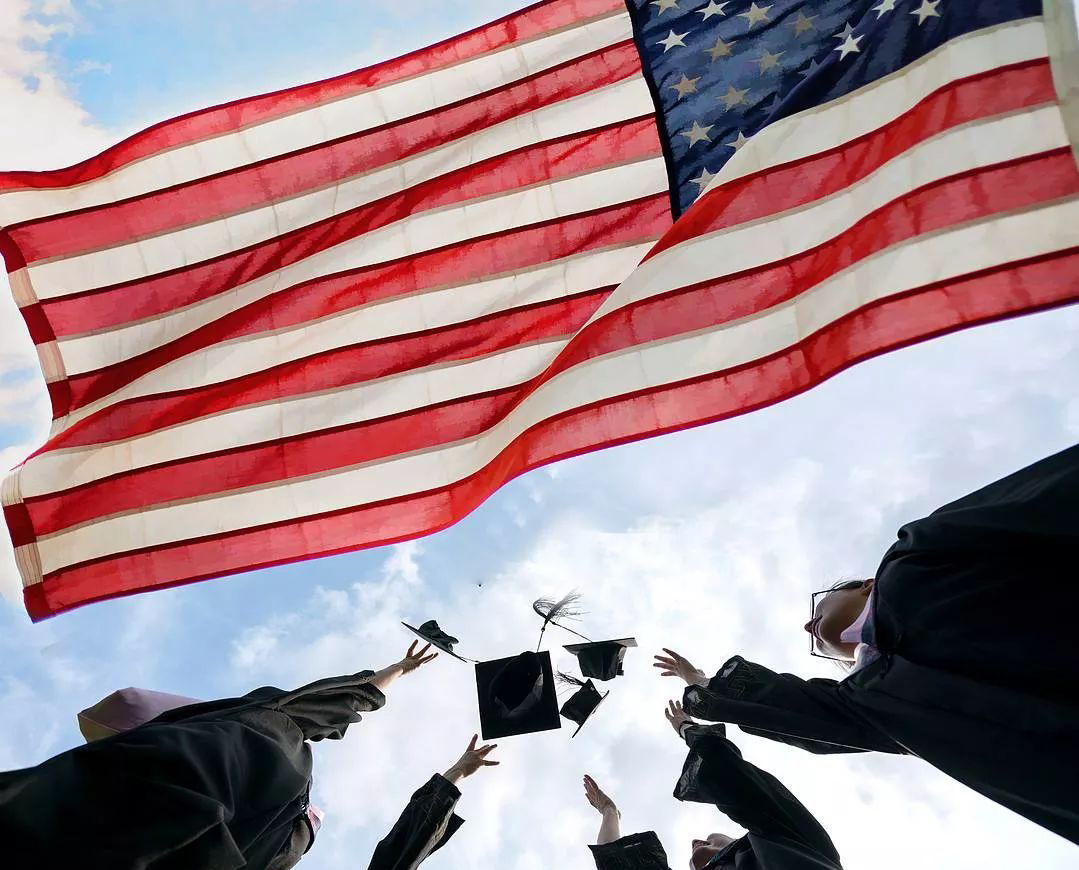 USA Offers
Ten USA offers are Early Decision acceptances: one from Emory University, two from Boston University, one from Wesleyan University, one from Northeastern University, one from The George Washington University, one from Davidson College, one from Rensselaer Polytechnic Institute, one from Virginia Polytechnic Institute and State University (Virginia Tech) and one from Hobart and William Smith Colleges. 40 offers were early action offers and include University of Wisconsin Madison, Purdue University, and the University of Illinois at Urbana-Champaign, University of Pittsburgh as well as University of Minnesota, Twin Cities. 184 offers were regular decision offers and include the University of Washington, University of California, San Diego, and Georgia Institute of Technology. Please see below for the current USA offers: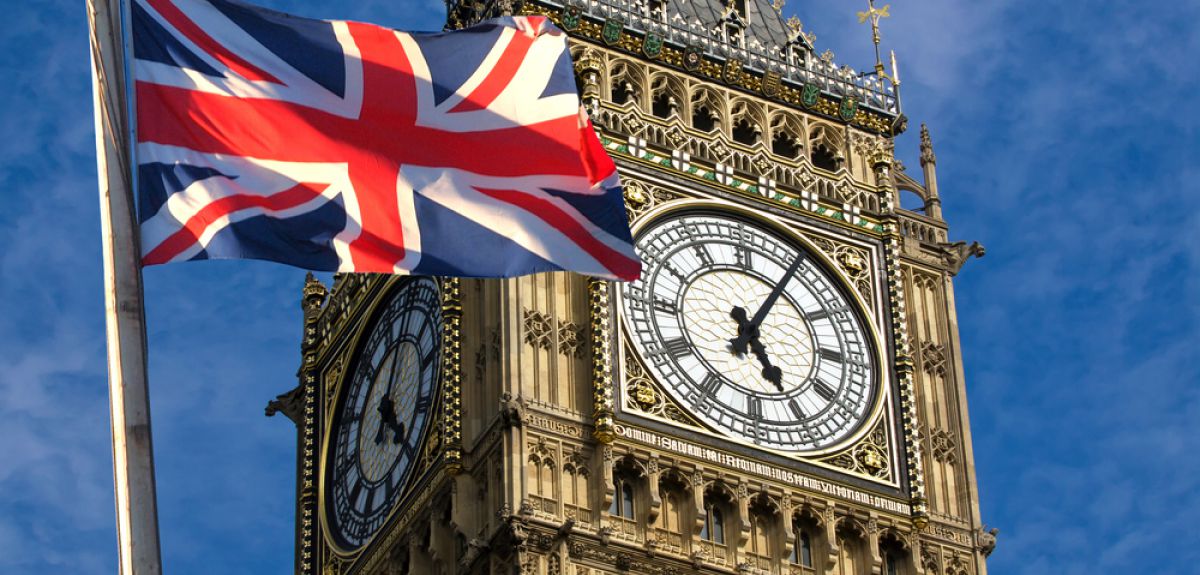 UK Offers
130 (74%) UK conditional offers are to Russell Group universities including Imperial College London, University College London, The University of Manchester, The University of Warwick, University of York and Bristol University. Please see below the current UK offers: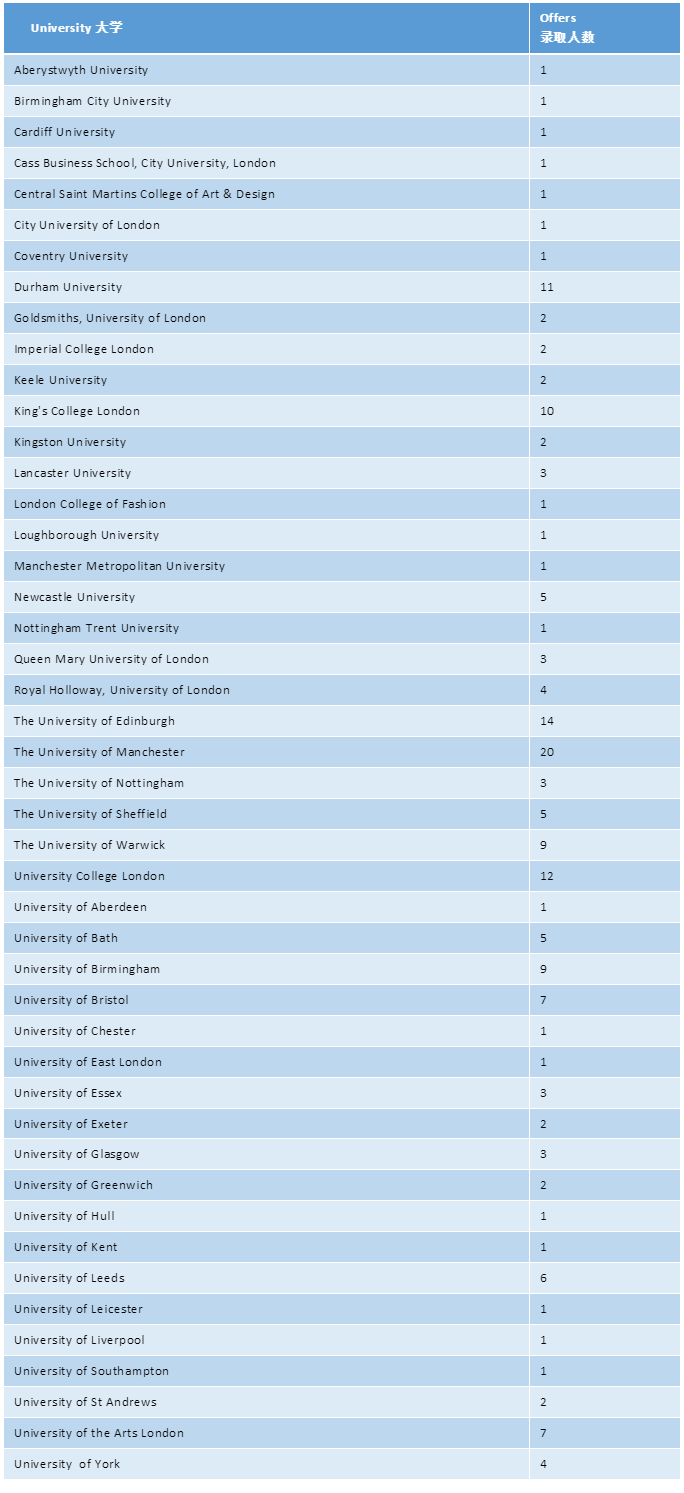 About Russell Group:
The Russell Group represents 24 leading UK universities which are committed to maintaining the very best research, an outstanding teaching and learning experience and unrivalled links with business and the public sector.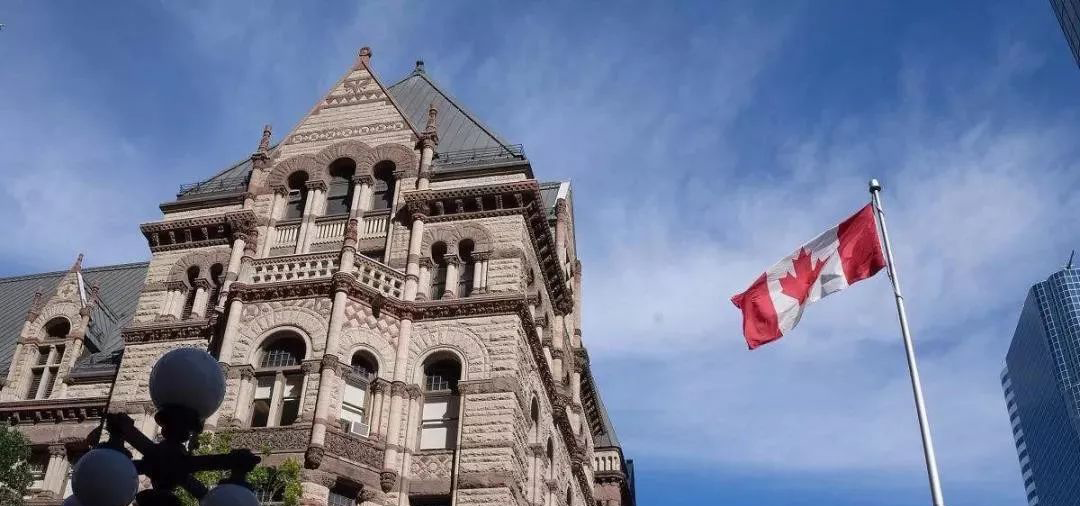 Offers from Canada
60 offers are from Canada and include the University of Toronto, University of British Columbia, Carleton University, McGill University and the University of Ottawa. Please see below current CA offers: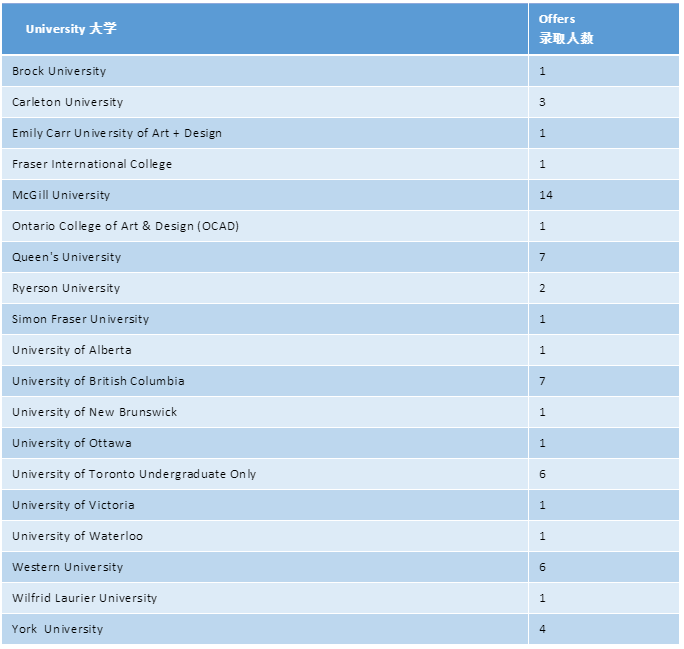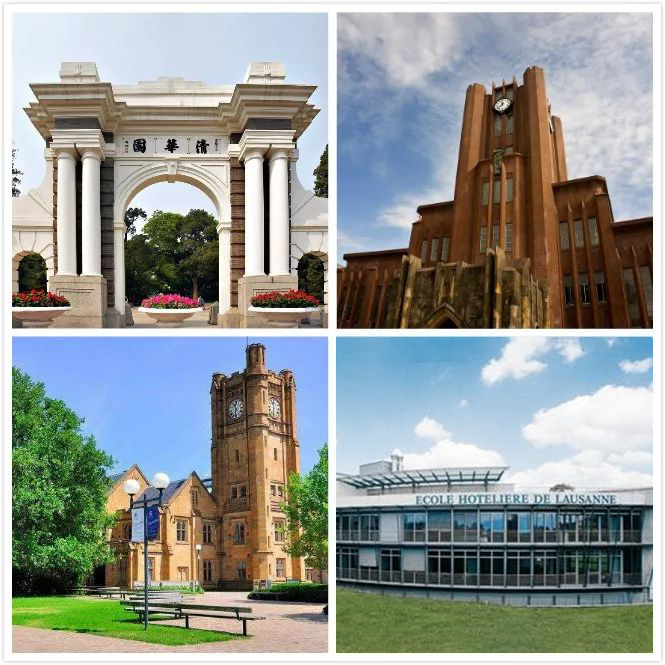 Offers from other parts of the World
One offer is to Tsinghua University. One offer is to the University of Tokyo, one offer is to the University of Waseda, one offer is to Osaka University. Four offers are to The University of Melbourne. One offer is to Ecole Hoteliere de Lausanne. Please see below current offers: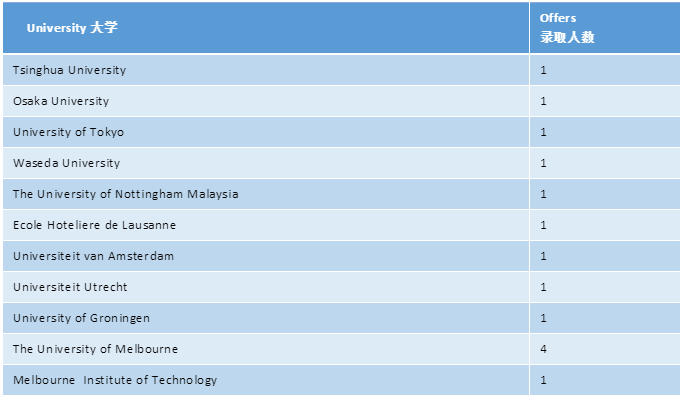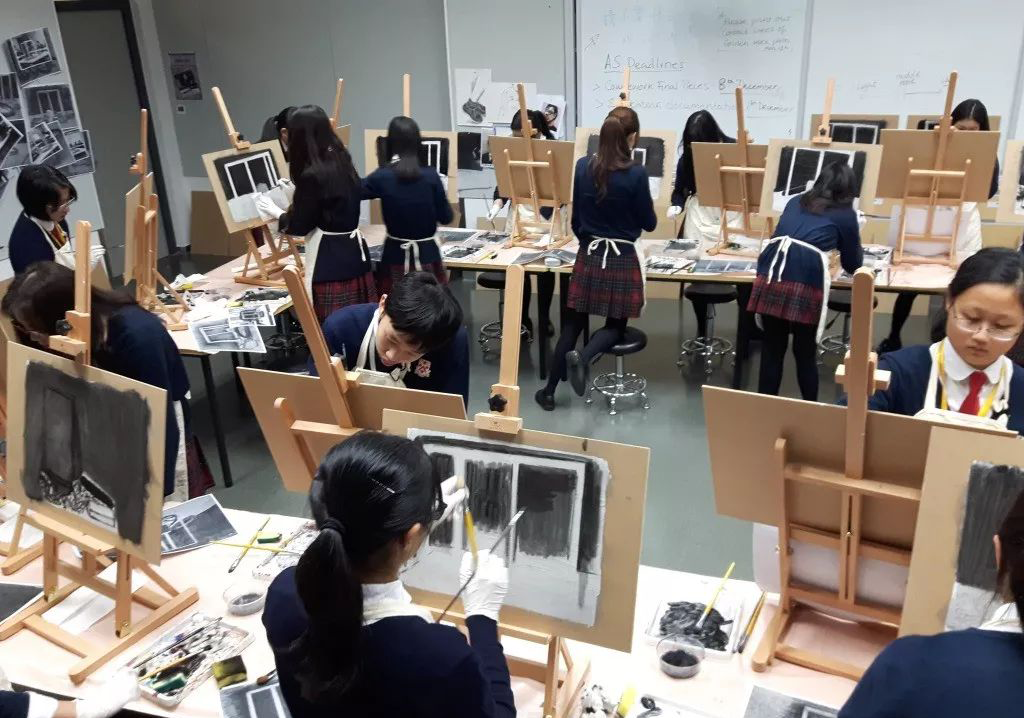 Offers from Arts Schools
As for art schools, our students have received a total of 41 offers. These include schools like Central Saint Martins College of Art and Design, University of the Arts London, Goldsmiths at the University of London, School of Visual Arts (New York), Pratt Institute, London College of Fashion (UAL).